A Soap Business Works
For One Main Reason...
Hello,
I'm Al Bullington. I stumbled onto this simple way to sell a lot of soap. Let me tell you about it.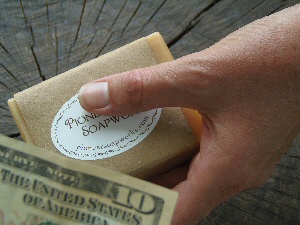 The soap business works because you can get repeat business. Soap melts and disappears down the drain!
That's good for you, if you're selling soap! If your customers like your soap, they will buy more!
But how do you make sure they like it? And how do you make sure they buy more? How do you get any customers in the first place? Read on for more...
Making and selling your soap can turn into a real cash maker. And mostly from home!
If you want a soap business to really go, what I have to offer you today may save you a lot of time and money.
Based on years of experience making and marketing soap, I've put together a plan. The plan explains how to make great soap and how to market what you make using simple methods. We've sold 35,000 plus bars of soap and counting using this same plan...
The plan is the SoapBizKit...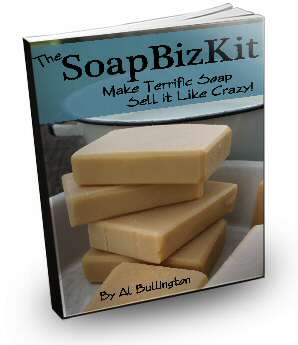 The SoapBizKit costs very little, but offers you a proven plan to start and grow a soap business. It's clear and easy to follow...
It's a GUARANTEED short-cut.
The handmade soap business may be the easiest small business you can get into! Getting started is simple. Don't let anybody tell you different! If somebody like me could do it, then so can you.
You can sell soap at all kinds of places, in all kinds of ways. We've sold 600 plus bars of soap in a weekend multiple times.
That's a nice pile of soap!
We've sold over $1,000 worth of products in a single day several times. We've sold virtually all we had at times.
What we really like though is being home most of the time!
I'm going to tell you about how the SoapBizKit can help you!
 SoapBizKit And Soap Making
The first part of the SoapBizKit lays out how to make great soap that sells. That's key...
Soap that sells...
Make soap that works so well, customers just have to have more!
Here's what you get...

  How to develop soap that's yours alone. Then you're the only source.

  Get detailed soap making instructions to cut the confusion.

  Discover sources that spell out what scents sell best. No guess work!

  Get proven-to-sell recipes. Boost your business! Use or modify...

  Get 19 of our top soap and shampoo bar recipes. Saves tons of time.

  You'll get vegan soap recipes, castile soap, oatmeal soap, animal fat soap, milk soap and more. Make what people want.

  See how you evaluate recipes. Avoid junk soap recipes.

  Which ingredients make the best soap? Get the straight story.

  What tools you need and where to get them. No time wasted...

  Best places to get supplies. Save trouble. Use top suppliers.

  Make milk soap with our easy methods. Very popular.

  Get tips for making large volumes of soap using simple equipment. Don't waste money on things you don't need...

  Color tips using natural materials. Marbling colors simplified...

  Want to be a soap artist? Colors, textures and shapes!

  Amaze your friends and family with your spectacular soap.
With The SoapBizKit
Make outstanding soap...
Make it fast...
Get going quickly...
Make it unique...
When people use your soap and love it, there's one place to get more!
From you.
Then the task is: find some customers!
Consider this...
The Monster Soap Business Advantage
Soap gets used up and washes down the drain! It disappears...
If your customers loved it...
They Will Buy More!
That's when the fun begins. Repeat sales make a soap business really soar!
In the marketing part of the SoapBizKit we lay out your plan to...
Get new customers.
Get repeat purchases from those customers.
Here's what the selling part of the book can do for you...
How To Sell Soap The Easy Way

  Get a proven-to-work plan for selling your soap.

  Easily find some customers to get your business going. It's simple.

  Tricks to selling at events. Hard to find information.

  Reveals 4 ways to get new customers. Know right where to start.

  Easiest ways to sell soap on-line.

  Get a lot of sales from home without going anywhere. Hint... Repeat sales.

  How to get bigger orders.

  Sell a lot more than just soap. Find out how to do it. Add-on items add up!

  Making soap is fun, So is selling it!

  Add on all sorts of other products to your mix. Salves, lip balms, scrubs and so forth.
The SoapBizKit is packed full of tips, tricks and ideas for your soap making business.
It contains color pictures too, showing many of the soap making steps, as well as packaging ideas, and display ideas.
You'll be happy with the SoapBizKit... Guaranteed...
The SoapBizKit comes with a 100% money-back guarantee!

Take your time. Look through the material. If you decide the plan just isn't for you, you'll get your money back. Take as long as you like! If you don't want it, I don't want your money! I want you to be happy! I take the risk! Try it out!

How This All Came About...
Since 1999, I've been working from home and generating income using a variety of methods, including making and selling soap and related products. That's given me the opportunity to spend a lot of time with my wife and children. I've been working (if you could call it that) at mostly what I like to do.
Remember this...
You have to answer one question for sure! "What's so special about your soap?" Then if you can answer that one, there's this other question...
How do you find people that want it? I just about guarantee that they are out there!
Let's say you make a few sales, how do you ramp things up? And how can you sell soap mostly from home?
Think about this...
What Happened With The Soap Venture?
We've never lost money working an event. Profits every time.
We've sold soap and other crafts at craft shows, art shows, school events, farmer's markets, flea markets, town festivals, street fairs, the mall, gun shows, sports tournaments, trade shows and on and on. Our items have been in gift shops and stores.
Some events we worked had hundreds of people shopping... Some had tens of thousands...
There's more...
We've sold our products in all sorts of other ways. Including mail order, on the phone, in the living room, on the Internet. Our soap's on the Internet for sale right now, ready to go, day or night. People stop by the house and give us money for soap.
What we really like is selling from home...
This has been going on for years now. I'll see somebody I haven't talked to for years and they ask about soap! This just has a life of its own! I never sold anything much at all until we started down the soap business road.
Your Life Could Totally Change!
Mine has...
My whole family is into home business production and sales.
It's a lifestyle now...
We've sold a whole range of soap-related products too. Like...
Salves,
Lip balms,
Bar shampoo,
Shaving soap,
Gift boxes,
Scented oils,
Aromatherapy blends,
And much more.
We have discovered methods to determine what people want to buy. We never just offer generic handmade soap. We offer soap with a difference. People see why it's special. And another thing we discovered... People who buy soap buy all kinds of other things too.
Stay in touch with people who like your stuff and...
They Will BUY MORE...
Recent SoapBizKit Buyer Comments


Al:

The SoapBizKit is GREAT!!! Definitely a good investment. Thanks for sharing this incredible wealth of information!

S. Elliott  
SoapBizKit Buyer Comments


THANK YOU!! Once again, you have gone above what I asked for. Thank you so much for the pricing ide (and all the other helpful experience and information you have shared with me).

I have told a friend who makes soap in IN about your ebook and highly recommend she get it... It is a real deal at 37.00. I feel the information you share in your soap making and craft show ebooks would improve any soap making business one hundred fold at least and is a wonderful investment in any soap making venture, for hobby, and especially for business.

L. Bush
You And Your Soap Business
Do these five simple things to make more money with soap.
Build interesting and unique products.
Find buyers for those products.
Offer more products to your customer friends.
Add additional products to your line.
Repeat...
Making money with soap is partly about products, partly about selling.
Plus...
You can make a lot of money by adding other products to your offering.
Soap buyers buy a lot more than just soap too!
If They Buy Your Soap And Like It...
They Will Buy More...
Think about this...
Why Pay For Soap Business Information ?
Why not just use all the free information about soap making on the Internet? Of course there's great info about soap that's free! For example, some of the info about coloring soap is just incredible!
But actually there's so much information, it's mind-boggling.
We've made over 35,000 bars of soap, and I get confused by some of this stuff you read. My mind gets boggled!
Free information may not cost money... Free info always costs time.
It's the same for marketing soap.
Some experts would tell you that starting a soap business is all but impossible. You have to have "that" and you have to do "this." It just goes on and on, and it just isn't so!
Enough Already - Let's Go!
At some point you just have to get going! Get yourself a simple plan from somebody who has done what you want to do. Then just get going! NOW, instead of months or years later...
People are going to keep buying soap. It's up to you whether they buy it from you, or somebody else.
Get tried and true tips of the trade.
The SoapBizKit - Inexpensive Short-Cut...
We offer a time and money saver for a small price!
The SoapBizKit is two books in one.
Firstly, it describes in detail how to make your own unique soap, starting with our proven methods for designing and making soap.
Secondly, it lays out how you market soap, using proven methods. Find new customers and then offer them replacements as your soap gets washed down the drain. Offer them other products. Stay in touch with customers!
Some of the tips in this resource can be worth thousands of dollars to you... And few people know what it takes to really grow sales.
The soap making part in the material covers cold process soap making mostly. That's where the money is. You get 19 proven to sell recipes. It's not about hot soap processes. It's not about melt and pour soap. These are fine ways to make some nice products, and we do explain these processes in the book.
The SoapBizKit provides clear direction to get you going.
Getting repeat sales can be worth thousands of dollars every year. It's simple with this information.
On top of that, avoid all the confusion produced by the millions of pages about soap on the Internet.
Spring into action with a clear plan, rather than going round and round in circles.
The SoapBizKit...
You'll love it! It will make you profits and save you money!
It's simple to follow, practical and based on real-world experience.
Order the SoapBizKit today.
The SoapBizKit Is Digitally Delivered
The SoapBizKit is an ebook, so you get it instantly. You get about 138 pages in this digital download.
Read it on your computer or print it out. Get INSTANT ACCESS to everything you've just read about.
You can pay using any major credit card, e-check, or from your PayPal account balance.
Get The SoapBizKit Now!
Click "Buy Now" Button Below...



Secure Payments Made Through PayPal
After a few seconds delay, you will arrive on a PayPal page to make your payment. You do not have to sign up for PayPal to buy.
Thanks for reading this.
We wish you the very best!

Al Bullington
PS: Get proven-to-sell recipes in the SoapBizKit. The SoapBizKit is guaranteed. Try it out. Grow your soap business starting today. Get the SoapBizKit.